How to Start Your Own Veggie Garden?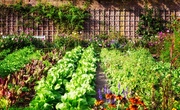 Are you excited to grow your own vegetables? It's a wonderful way to be active, spend time outside, and enjoy and share the result of your efforts. In this article, we'll share some advice on how to start your own vegetable garden and what aspects to consider when you're taking care of your vegetable plants. You will enjoy your own home-grown vegetables, even more, when you've been committed to the process of growing them yourself.
What Vegetables Are Easy to Start With?
Some vegetables are just easy to grow and barely go wrong. That's a nice way to start with your vegetable garden. These vegetables are good for beginning gardeners:
Lettuce
Green beans
Peas
Radishes
Carrots
Cucumbers
Kale
Swiss chard
Beets
Zucchini
Many of these crops can't go wrong, so you'll have some great feedback on your first efforts in your new vegetable garden.
What Fertilizer to Use for a Vegetable Garden?
Fertilizing the soil is an important step in growing your own vegetables. For example, the Nurseryland Vegetable Flower & Garden fertilizer is a formula that provides a balanced diet for your garden. Fertilizing once every 6 to 8 weeks is enough to satisfy your plants during the growing season.
What Mulch to Use for a Vegetable Garden?
The right type of mulch depends on several factors. First, is the crop, because not all plants have the same growing conditions. Some crops tolerate heat, while others can't tolerate heat coming from plastic mulch. Second, the amount of rain; it's important to know whether the mulch type is moisture retentive or not. Last but not least, is the soil type. Usually, the soil dries out a bit through the growing season, so using a moisture-retentive mulch isn't the best option. These factors are depending on the type of crops, but also local conditions such as temperature and rain. If you want to know more about the right type of mulch for your crops, our team in-store is happy to help you with personal advice.
How to Water the Vegetable Garden?
Obviously, watering is essential. The specific needs may depend on the crops you're growing, so make sure to look up their specific water needs when planting them. Besides the crop-specific needs and wishes, it is essential to consider the type of soil as well.
On sandy, well-drained soil, you may need to water up to twice a week. With soils that hold more moisture, such as heavier clay soils, watering once a week is enough. Soils covered by mulch retain water better, so they need less water.
Shopping list
Here's a recommended shopping list for you:
Seeds or plugs of vegetable plants
Nurseryland Vegetable Flower & Garden
Mulch, ask for advice if you're unsure about the type
Moisture metre
Watering can
Gloves
More Advice on Starting a Vegetable Garden? Ask Our Team in Store
Do you want more tips on starting your vegetable garden? Visit one of our stores and reach out to our team, they will be happy to help you with personal advice on the right soil conditions, fertilizers, mulch, and other questions you may have regarding your first vegetable garden. Find one of our stores in your area.