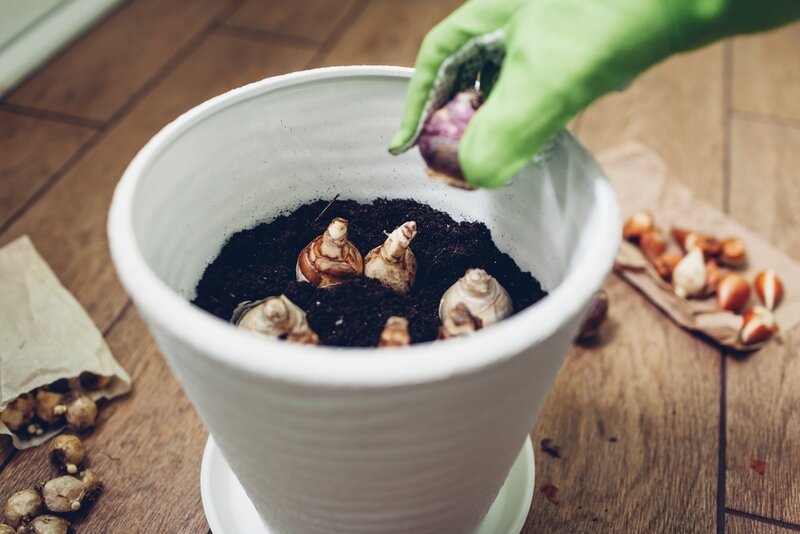 As the trees turn rich shades of gold, red, and orange, it's time to harvest the last of your summer crops, prepare your garden for winter, and start planning for spring. And to get you started, here are our top 15 gardening tips for October.
October Gardening Tips
Cut back herbaceous perennials as they die back, but leave a few hollow flower stems standing to provide homes for overwintering insects.

Prune climbing roses and reduce shrub roses by half to protect them against damage from strong winter winds.

Lift and divide perennials. Tease clumps apart by hand or use two garden forks back-to-back to lever them apart. Cut woody roots with a knife or the sharp edge of a spade.

Prune summer-fruiting raspberries, cutting all this year's fruited canes to ground level and leaving the new canes, which will bear fruit next year.

Harvest the last of your French and runner beans, then cut the plants down to ground level, leaving the roots in the ground to release their stored nitrogen.

Pick green tomatoes and let them ripen indoors, placing them in a paper bag together with a banana to speed up the process. Check the bag regularly and remove any tomatoes that are rotting.

October is an excellent time to plant new trees and shrubs while the soil is still warm from the summer, giving the roots time to settle in over winter, ready for next spring.

Plant spring bulbs like tulips, daffodils, and crocuses this month.

Aerate and scarify your lawn, and give it a low-nitrogen fall feed. Now's a good time to fix bare patches by sowing seed or laying turf.

Lift dahlia, begonia, and gladiolus bulbs in cold areas and store them somewhere dry over winter.

Move half-hardy plants into a frost-free spot like a greenhouse or a sunny windowsill indoors.

Empty soil from outdoor pots to prevent them from becoming waterlogged and frozen over winter.

Sweep up fallen leaves and collect them to make leaf mould. If you don't have space for a leaf pile, put the leaves into black bin bags, make a few holes in the bags and put them somewhere out of sight. In a year or two, the leaves will break down into leaf mould, a fantastic soil conditioner.
As you can see, October is a great month for gardening. Please ask our staff for advice, if needed. We have everything you need for your garden this fall, so visit our centre soon and see what's in store!