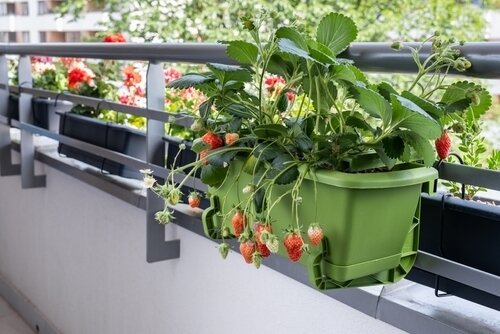 Imagine picking and eating your own fresh food straight from your balcony garden. It's perfectly possible to do – many vegetables and fruit grow well in pots and look beautiful and taste delicious. Here's how to grow your own fruit on your balcony.
Tips for Balcony Gardening
When gardening on a balcony, there are a few things to bear in mind:
Pots filled with wet soil can be heavy, so take care not to overload your balcony. Lightweight plastic or fibreglass pots are a better bet than heavy terracotta, provided they are securely fixed down and won't blow around.

Most fruit need at least 6 hours of sun per day. Look at how much sun your balcony gets and choose the fruits that will grow best there.

Balconies are often windy, so put up a windbreak to protect your plants. Bamboo cane screening fixed to the balcony railings in the direction of the prevailing wind (usually the west-facing side) is ideal.

Look for clever space-saving solutions like balcony planters that hook over balcony railings.
Balcony Gardens and Pollination
All plants need to be pollinated to produce fruit. Some fruits need to be pollinated by a different variety of that fruit, while others are self-fertile. Since space is limited on a balcony, plant self-fertile fruit varieties wherever possible, it's also worth having a few flowering plants to attract bees and other pollinators to your balcony garden. Coastal and Mediterranean plants such as sea thrift, lavender, and thyme cope well with exposed conditions on balconies and are great for attracting pollinators.
Food to Grow on Balconies
Strawberries are easy to grow in pots and look good even when the strawberry harvest is over. Look for new varieties like the 'Sweet Kisses' range with colourful flowers and a very long harvest period.

Tomatoes are a go-to choice as an easy-to-grow option on balconies and patios. Tumbler tomatoes and patio tomatoes are varieties that do especially well in containters

Cucumbers also thrive in containers. Patio snackers are a delightful addition to your patio garden, and cucuamelons are a fun small cucumber to grow and add to salads!
With our superb range of soft fruit and fruit trees to choose from, you'll soon be harvesting your own delicious fresh fruit. Visit us soon to get your balcony garden started!