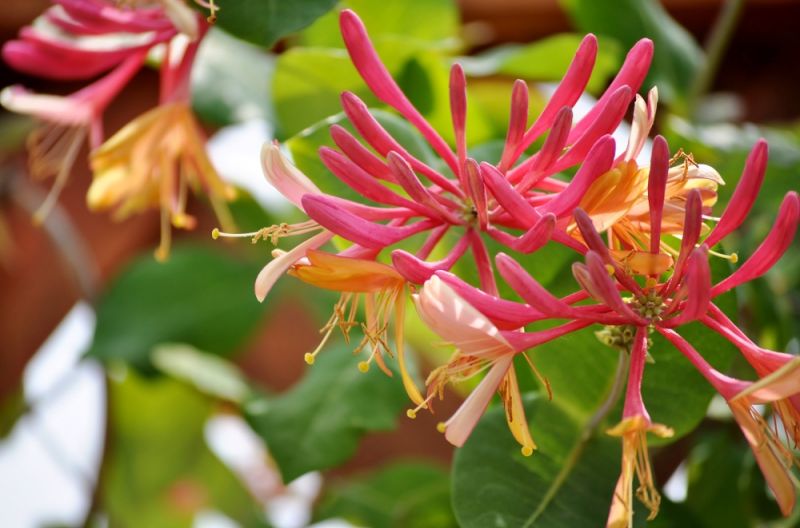 Find out our top 10 scented plants and enjoy the spread of natural scent in your garden. We have a wonderful range of plants with a nice fragrance. Fill your garden with scented plants and your garden will not only look fantastic but also smell fantastic!
1. Honeysuckle
The sweet fragrance of Honeysuckle brings a heady scent to the garden. Not just beautiful with flowers varying from white to cream and salmon pink but also a wonderful climber, ideal for pergolas and archways. It's especially good where you might be able to sit near or walk by to fully appreciate it, along with the many beneficial insects that it will attract.
2. Lemon Balm
One of the most fragrant of herbs and great in a cooling glass of water to refresh you on a hot day in the garden. Lemon Balm is very easy to grow, ideally in pots or contained well, as it is similar to Mint with respect to taking over. Lemon Balm can be used to calm and ease anxiety as well.
3. Nicotiana
A wonderful annual for beds and borders and highly fragrant in the evening time. Protect seedlings and young growth from slugs and snails; otherwise, they are really easy to grow. A variety of colours from lime green to white, pink, and red. You will even find that some moths are attracted and will put on quite a display at night. Nicotiana are also fairly resistant to deer and rabbits, so a perfect choice if you share your space with some hungry critters!
4. Lilac Bush
The stunning Lilac gives out an incredible late spring fragrance with the prettiest flowers. Often used for hedging, they just need pruning after flowering and watering when first planting.
5. Eucalyptus
Not just for bouquets of flowers! Eucalyptus looks great in the garden, especially in pots. Trim the stems and hang them up in your home. It not only smells great but even helps medicinally as well.
6. Gardenia
The pretty white flowers of Gardenia are unmistakable not just for their beauty but for their gorgeous fragrance. They grow well in containers when planted in ericaceous compost and if you stand your container by the front door, it will be an entrance full of perfume.
7. Rose
The classic fragrant garden plant! With the many many varieties available there is a rose for everyone. From the intoxicating 'Etoile de Hollande' to the delicate and well-known fragrance of 'Gertrude Jeykll'.
8. Stocks
The cottage garden favourite, Stocks are incredibly fragrant with pretty flowers and full of colour. Equally, they look perfect in a bunch of flowers as they do in pots.
Get sowing your seeds, nurturing plug plants, and fill your garden with fragrance from our range of seeds and plants in store.