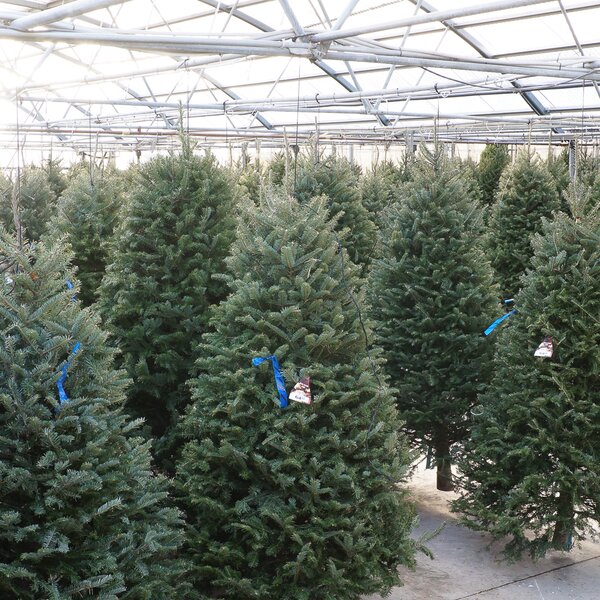 There's something about a Christmas tree that turns everyone into a child again. Smell the needles, see the sparkling lights and glittering ornaments, and feel the anticipation growing. Choose the perfect Christmas tree for your home this year with our top tips.
Types of Christmas Trees
All of our fir trees are from premium Quebec growers. When you choose a tree from Lacoste, you can be sure that you'll have a high quality tree every year.
Fraser Fir
A low-mess variety that sheds very few needles. It's narrower than a balsam, so suitable for tight spaces, but still has plenty of dense, soft foliage. Its needles are shorter than a Balsam, with silvery undersides. Frasers are thickly branched for a lush, full tree. They have a fantastic citrus scent.
Balsam
Balsams are the original fresh Christmas tree, and are always very popular! They are quite fragrant, so will certainly enhance the Christmas feel in your home. Their needles are slightly longer than a Fraser, and the branches are slightly more flexible, and provide beautiful nooks to display your favourite ornaments.
Balsam Fraser Hybrid
A new variety for us this year.
Everything there is to love about a Balsam, but with the silver look of a Fraser.
Manitoba Spruce
Manitoba Spruce are grown right here in Manitoba, and have a sparse, natural look. If you prefer a tree that reminds you of one you cut down yourself, but without getting cold and snowy toes, this is the one for you.
Tips on Caring for Christmas Trees
For the best choice, get your tree as early as you can so that you can pick one that suits the size and shape of your room. If you're buying a live tree choose around the end of November so that your tree will last through Christmas.
Un-net cut trees as soon as you get home so that air can circulate around the branches.
Rehydrate your cut tree by cutting an inch off the end of the trunk and standing the tree in a bucket of water (do this within 30 minutes of cutting, or it will seal over).
If you are not putting up your tree straight away, leave it outside, frozen in a dry place, out of direct sunlight and sheltered from the wind.
Position your Christmas tree away from fires and radiators, as these will dry it out.
Check the water reservoir of your tree stand daily and keep it topped up.
We have a fantastic range of Christmas trees of all sizes in the centre all hanging in the greenhouse for easy shopping